Project significance
By relocating the activities from Delta and Porto Baroš to other locations, the spatial and location potential of this area is channelled toward the creation of a new and recognisable part of the city centre which will, with its facilities, appearance and quality become a public place and bearer of the new identity of the city – one that actively coexists with the city, its citizens with the sea, while also exceeding local limits and positioning Rijeka as an example of the successful transformation of Mediterranean port cities.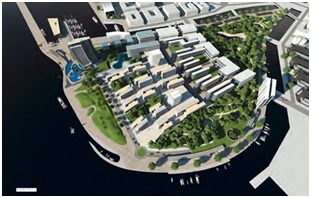 DELTA – RIJEKA WATERFRONT
To achieve the aforementioned goals, the possibility for the construction of around 200,000 m² gross developed area of new buildings was opened in the South Delta alone, with additional 50,000 m² within the Baroš Marina.
Project type: Tourism and recreation
Project promoter: City of Rijeka
Location: City of Rijeka
Ownership
Port area – maritime domain
Estimated project value: about EUR 300,000,000
The project involves the following construction activities
A central city park with an area of 4 ha in the area of North Delta,
various municipal facilities (residential, business, trade, hospitality, entertainment, city multipurpose hall, aquarium) in South Delta, on an area of 10 ha,
Baroš Marina, area of around 10 ha.
Realisation model
It is necessary to obtain a concession on the maritime domain.
Prepared documentation
Spatial planning documents:
In 2013, a public international tender for the urban-architectural solution of the Delta area was conducted, the results of which will serve as a basis for a tender for the concessionaire of the Delta and Baroš port areas to be published by the Port of Rijeka Authority. After the selection of the concessionaire, the development of the urban development plan will follow.
Contacts
Srđan Škunca, Head
Department of Development, Urban Planning, Ecology and Land Management
City of Rijeka
Titov trg 3, 51000 Rijeka
Phone: +385 51 209 450
Fax: +385 51 209 451
E-mail: srdjan.skunca@rijeka.hr
Web: www.rijeka.hr
Denis Vukorepa, head
Port of Rijeka Authority
Riva 1, 51000 Rijeka
Phone: +385 51 351 177
E-mail: rijeka.gateway@portauthority.hr