Description
The future residential complex is planned by the Detailed Development Plan of the Trsat residential area (OG29/09) and the Detailed Development Plan of the University Campus and the Trsat Clinical Hospital Centre (OG 29/05) entirely on undeveloped land on the north-eastern edge of Trsat. It is a very attractive residential area of the city of Rijeka, recognisable by its medieval core, family housing building in greenery, high quality views of the Gulf of Rijeka and the islands, but also a modern campus complex and the clinical hospital centre which is under construction. Due to these characteristics, new residential construction of mainly multi-family housing typology is being planned in this area, while several attractive condos have already been built along University Avenue, to which residential neighbourhood that is the subject of this project should follow.
ON THE AVENUE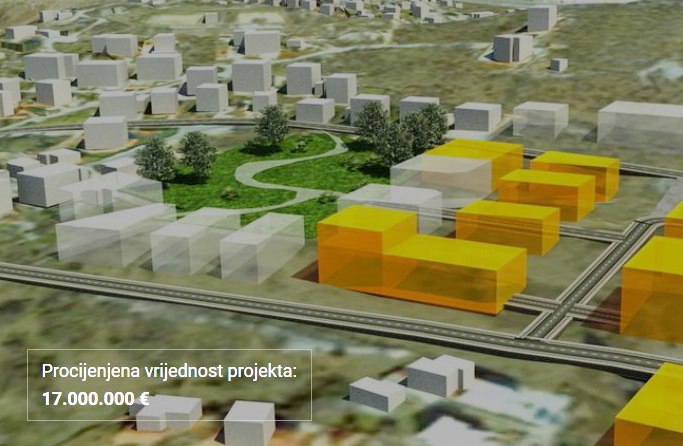 The project includes the construction of:
9 multi-apartment and multi-family buildings of storeys P + 2 to P + 4, max. No. 13,600 sq m of living space (above ground)
public areas – roads and public park (obligation of the City)
Location: Rijeka – Trsat area
Ownership: City of Rijeka
Realisation model: Signing of a preliminary agreement is offered for the sale of land. The City of Rijeka has an obligation to sort out property and legal issues and road construction with infrastructure. The City of Rijeka shall public an invitation to tender for the sale of land intended for the construction of residential buildings.
Contact persons:
Department of Development, Urban Planning, Ecology and Land Management
Srđan Škunca, head
City of Rijeka
Tito Sq 3, 51000 Rijeka
Telephone: 051 209 450,
Email: srdjan.skunca@rijeka.hr
Gabrijela Kiš-Jerčinović, head
Land Management Division
Telephone: 051 209 4
Email: gabrijela.kis-jercinovic@rijeka.hr
Fax: 051 209 451