GOAL:
The kindergarten that currently operates in the quarter of Rastočine is inadequate according to standards relating to buildings intended for preschool education and according to the needs of the quarter and its territorial basin. Therefore, the preparation of project documentation has been initiated for the construction of a new kindergarten on a free surface of 4,356 sq.m. that stretches to far east and along the southern side of Petar Kobek street.
PROJECT TYPE: Conceptual solution and main project
The project documentation for the Rastočine kindergarten is being prepared by the company DIMIDIUM PROJEKT and coordinated by the City Department of Development, Urban Planning, Ecology and Land Management. The kindergarten will be able to accommodate nine educational groups: three nursery groups and six kindergarten groups, with a total capacity of 168 children. The kindergarten will have two floors with a total gross building area of 2,866 sq.m., a multifunctional hall of 180 sq.m., a garage with 27 parking spaces and outdoor playgrounds and terraces, separately for children in the nursery groups and in kindergarten groups.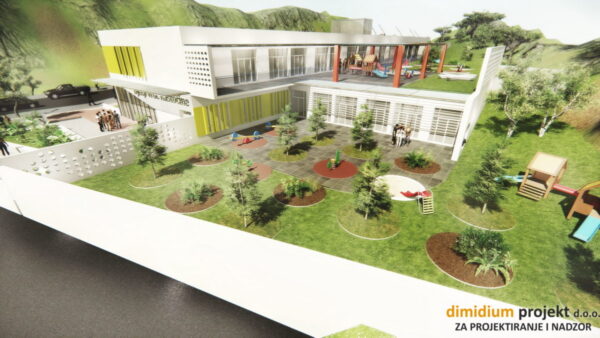 BEGINNING OF THE PROJECT: May 2018
PROJECT STATUS: Building permit obtained in Sept. 2019
The contract between the City of Rijeka and the Ministry of Demography, Family, Social Policy and Youth on the allocation of HRK 119,000.00 in favour of the City of Rijeka for designing a new kindergarten in the quarter of Rastočine was signed on 17 July 2018.
The City of Rijeka has received funds for designing the new kindergarten following a competition in the segment Investment Project in Kindergarten Facilities published by the mentioned Ministry, in which the City of Rijeka took part.  The competition was open until 30 March 2018.