Project description
The lack of parking spaces within the city centre and the intention to revitalise the city centre resulted in the planning of the construction of an underground garage with additional contents, especially commercial contents intended for the peripheral residential area, as well as the design of public surfaces intended for the needs of citizens and nearby educational institutions.
The project involves the following construction activities:
Public garages with 720 spaces on 4 levels, provided that the first level is intended for commercial facilities and services,
development of the public urban area above the garage and reconstruction of a part of the Ivana Filipovića Street (pedestrian zone, protected green areas, public green areas and a playground, partial reconstruction of the Ivana Filipovića Street)
Location: City of Rijeka
Ownership: City of Rijeka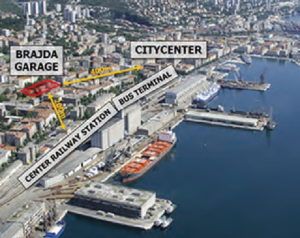 Realization model: A Preliminary Contract has been offered for the sale of the land and construction of the underground garage. The Investor has undertaken the works of partial reconstruction of the Ivana Filipovića Street, with respect to the parking lot building access. The City of Rijeka has undertaken to prepare documents relating to ownership and legislative provisions and the construction of the Ivana Filipovića Street and the Senjskih Uskoka Street.
Estimated value of the project:  27,000,000 €
Developed documents
Physical planning documents:
the project is in compliance with the physical planning documents.
Contact persons:
Srđan Škunca, Head
City Department for Development, Urban Planning, Ecology and Land Administration
Phone: +385 51 209 450
Fax: +385 51 209 451
E-mail: srdjan.skunca@rijeka.hr
Gabrijela Kiš-Jerčinović, Director
City Department for Development, Urban Planning, Ecology and Land Administration
Phone: +385 51 209 441
E-mail: gabrijela.kis-jercinovic@rijeka.hr
City of Rijeka
Titov trg 3, 51000 Rijeka