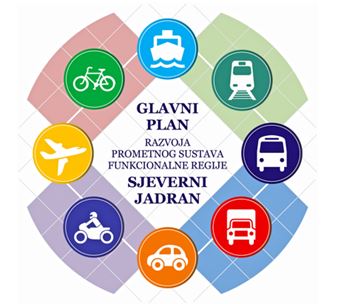 The masterplan for the transport system development of the North Adriatic functional region is the project relating to the preparation of the same named strategic document with the aim of achieving an efficient and sustainable transport system in accordance with the needs of inhabitants and the economy in the North Adriatic functional region.
The total value of the project amounts to HRK 9,422,825.00, of which HRK 7,990,555.60 (84.80%) an EU grant under the Cohesion Fund awarded in accordance with the Operational Programme Competitiveness and Cohesion 2014-2020.
The leading project partner is the County of Primorje-Gorski Kotar, and other project partners are the County of Istria and the County of Lika-Senj. The City of Rijeka participated in the process of preparing the plan as one of the most important stakeholders, given that Rijeka is the traffic and economic focus of this functional region, and was involved in preparing the plan through its expert representatives.
The project was implemented in the period from 1 March 1 2017 to 31 December 2018.
The key project result is the basic strategic document that contains goals and measures for the development of the transport system in accordance with spatial possibilities, the requirements of the economy and the needs of the inhabitants of the North Adriatic functional region.
A separate report was prepared for the urban area of the city of Rijeka with indicators of the current situation and planned development.
The plan is available on the website of the County Primorje-Gorski Kotar.