Project title
ASporty
Project Goal
Developing innovative sports programmes that include activities tailored to include people with autism spectrum disorder and exchange of experiences between experts who conduct educational – rehabilitation, kinesiological and sports programmes, presenting sports programmes that include people with autism spectrum disorder, presenting the activity of the Centre for autism Rijeka and the sports clubs intended for people with disabilities operating in the city of Rijeka.
Duration
1 Jan. 2020 – 31 Dec. 2021
Description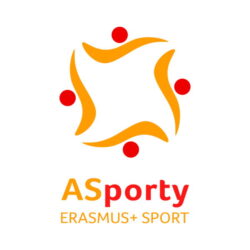 The programme includes 11 students and users and 3 teachers of the Centre for Autism Rijeka. The project develops cooperation between professionals working with children and young people with autism spectrum disorder in the field of sports, it upgrades existing and develops new methods that help the development of children and youth, promoting social inclusion and equal opportunities for all, in sports, raising the awareness of parents and teachers on the healthy and holistic development of children and young people, laying the foundations of a sports education programme for teachers and coaches, promoting the importance and positive effects of physical activity for children and young people with autism spectrum disorder.
Programme implementation is envisaged in three parts. In the first, practical part, each partner organisation had to perform special sports programmes, in the second part professionals of each organisation had to exchange and upgrade knowledge and experiences by transnational visits and meetings of staff of all three partner organisations, while the third part envisages the promotion of the project activities and its outcomes. Due to the epidemiological situation caused by Covid 19, the project takes place in a virtual environment.
Partners
Association of Inclusive Culture, Ljubljana, Slovenia (lead partner)
Centre for Autism Rijeka
Klletaskoli – Iceland
Budget
Total project value: EUR 42,824.00
Amount funded by EU funds: EUR 34,156.73
Financed under

Erasmus + Sport – Small-scale Partnerships for Co-operation
Official website
http://www.drustvozakulturoinkluzije.eu/projekti/asporty/
https://www.facebook.com/ASportyErasmus
Contact
Centre for Autism Rijeka
Ul. Stane Vončine 1, Rijeka
tel: +385 51 642 465
e-mail: autizam.ri@gmail.com