Project description: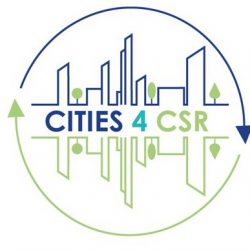 CITIES4CSR is a project that includes 10 cities partners from 8 EU countries that are dedicated to fostering corporate social responsibilities (CSR) in their communities. The URBACT network raises awareness of the importance of potentials that corporate social responsibility brings to the community. Each partner city will focus on a specific CSR local challenge and field with regard to local needs and priorities, while working with local stakeholders and the private sector, applying the partner cities' good practices.
Project goal:
The project is aimed at promoting corporate social responsibility and encouraging sustainable development with a positive influence on the community and common environment.
Activities:
The project was launched at the kick – off meeting in Milan, on 23 September 2019 and is held in two phases with the overall duration of 30 months.
Partners:
Milan, Italy
Sofia, Bulgaria
Vratsa, Bulgaria
Molina de Segura, Spain
Nantes Metropole, France
Rijeka, Croatia
Budaörs, Hungary
Kekava County, Latvia
Guimarães, Portugal
Duration:
Phase I – 1 Sept 2019 – 1 March 2020
Phase II – 1 March 2020 – 1 March 2022
budget:
The programme is financed under: URBACT
Total budget of the City of Rijeka: EUR 47,746.40 (85% ERDF)
Financed from its own budget: EUR 7,161.98
Official website of the project: https://urbact.eu/cities4csr
Contact person for more information:
Suzana Belošević Romac 
Mayor's senior adviser – European project specialist
Korzo 16, Rijeka
Tel.: 051 209 687
E-mail: suzana.belosevic@rijeka.hr