Project Title
RESTART_4Danube – Boosting cREative induSTries in urbAn Regeneration for a stronger Danube region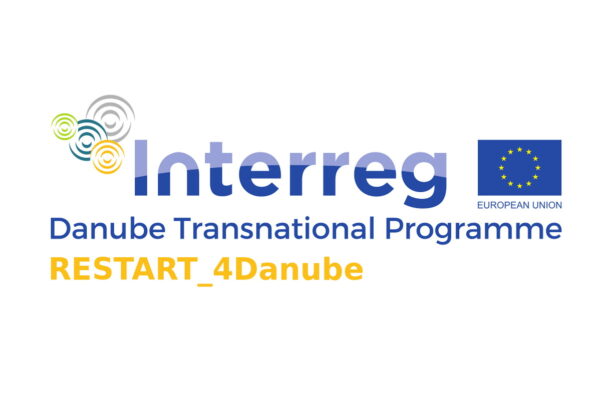 Project Goal
The project key goal is to improve the conditions and policies within the smart specialization strategy for a new model of urban regeneration that includes cultural and creative industries (CCI). RESTART_4Danube will support new public policies focused on supporting innovative small and medium-sized enterprises (SMEs) in the field of CCI by strengthening their orientation towards business markets. The implementation of the project aims to encourage innovation and growth in CCI in support of urban regeneration processes.
Specific project goals
Creating a common strategy to support creative and innovative urban development aimed at addressing societal challenges
Developing tools and services to support transnational and cross-sectoral cooperation
Support for policies and exchange of good practices in the field of creative urban regeneration
Project duration:
July 2020 – December 2022
Competent Authority
Interreg Danube Transnational Programme Joint Secretariat, Budapest, Hungary
Description
Cities face challenges to develop a culture that generates public/private synergies to promote SMEs & stimulate creative urban communities. RESTART_4Danube addresses the insufficient transnational cooperation and coordination at institutional level as well as the limited innovation capacities of SMEs. In this context, the DR exhibits low number of patent applications, poor Intellectual Property protection, weak technology transfer and application activities, limited access to finance capability but also limited cooperation of SMEs, research organisations, technology parks, incubators, clusters, public organisations and civil society. All these elements hinder the full deployment of the R&I sector in the region, which is a key objective of the DTP Cooperation Programme. This is why the project will promote business investment in R&I – focusing on the CCIs sector due its huge growth potential (this sector creates 5.3% of the EU's total GDP).
The project outputs are queued to strengthen the links between enterprises, R&D centres, HER, public sector and civil society to improve framework conditions & policy instruments supporting the regional & local smart specialization strategies (S3) for a new model of urban regeneration involving CCIs. Through a place-based and quadruple helix approach in the development of LAPs & service hubs, the project will contribute to improve cross-linkages & to optimize internal synergies between CCIs, R&D & public sector in urban regeneration in the DR. The pilot actions will strengthen the service, social & eco-innovation capacities of SMEs in the CCIs while supporting the regional S3. RESTART_4Danube is based on the idea that transnational cooperation between SMEs, R&D and cities is boosted through transnational exchange in order to effectively disseminate good practice experiences, innovation policies, whereby stimulating new business models and thus provoke structural change.
Key activities
WPT1. Defining the existing situation and improving the framework for creative urban regeneration
WPT2. Initiating activities through Local action plans and networking
WPT3. Capacity-building programme
WPT4. Capitalisation and policy recommendations
Project outputs
Joint strategy for creative urban regeneration of the Danube region
New set of tools for creative urban regeneration
5 Local Action Plans (Craiova, Maribor, Vas County, Rijeka and Vratsa)
Package of cooperation agreements between SMEs and research and development institutions
Readiness level audit
A set of educational tools in the field of creative urban management and innovation management
Project partners:
University POLITEHNICA of Bucharest (Romania)
Steinbeis 2i GmbH (Germany)
School of Advanced Social Studies (Slovenia)
IPA – Research and development company, engineering, and manufacturing for automation equipment and systems (Romania)
University of Maribor (Slovenia)
Croatian Chamber of Economy (Croatia)
Chamber of Commerce and Industry Vratsa (Bulgaria)
Carinthian University of Applied Services (Austria)
Local council of Craiova Municipality (Romania)
Municipality of Vratsa (Bulgaria)
Pannon Business Network Association (Hungary)
Municipality of Maribor (Slovenia)
City of Rijeka (Croatia)
Self-Government Office of Vas (Hungary)
Development Association NERDA (Bosnia and Herzegovina)
Organisation for Small and Medium Enterprises Sector (Moldova)
Information Centre for Innovation and Development (Ukraine)
Associated partners:
City of Nova Gorica (Slovenia)
Uzhhorod City Council (Ukraine)
Nova Iskra Creative Hub (Srbia)
Ministry of Economy and Sustainable Development of the Republic of Croatia (Croatia)
Tallinn Science Park Tehnopol (Estonia)
Ministry of Regional Development and Public Administration of Romania (Romania)
Administration of the regional government of Carinthia (Austria)
Business Incubator Cahul (Moldova)
Budget
Total project value: EUR 1,814,895.00
Share co-financed by the ERDF: EUR 1,348,100.00
Share co-financed by ENI-MD, ENI-UA and IPA II: EUR 194,560.75
Total budget of the City of Rijeka: EUR 89,550.00
Share of ERDF co-financing in the budget of the City of Rijeka: EUR 76,117.50
Financed under:
Interreg Danube Transnational Programme 2014-2020
Official web site of the project
http://www.interreg-danube.eu/Restart-4Danube
For more information, please contact:
Iva Ribarić
Adviser for project implementation and promotional activities
Department of Entrepreneurship
Trg Sv. Barbare 2, Rijeka
Tel: 051 209 943
E-mail: iva.ribaric@rijeka.hr