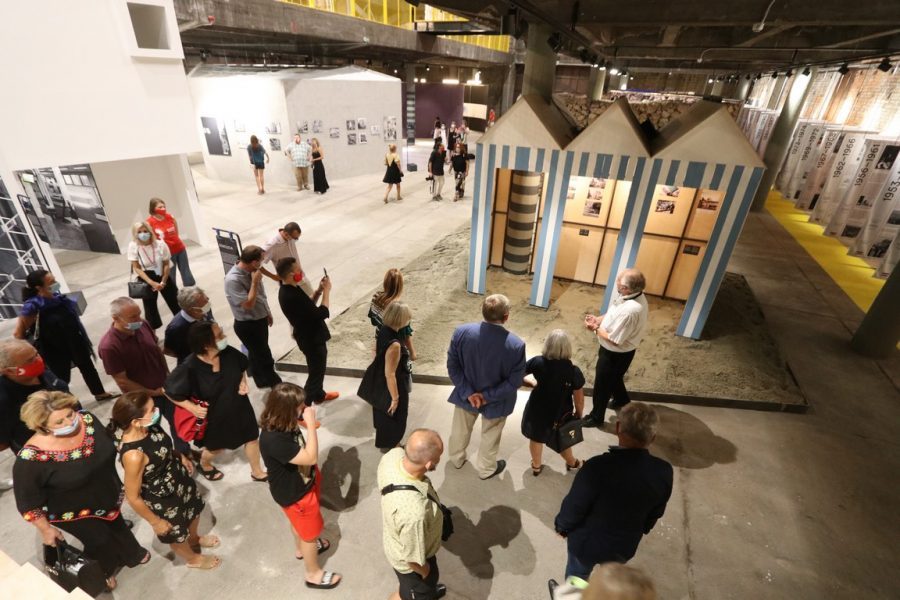 The exhibition titled "Fiume Fantastika": Phenomena of the City, was inaugurated in the refurbished premises of Exportdrvo in the Delta area, within the Sweet and Salt programme of the European Capital of Culture. The exhibition is set in 10 pavilions, each of which thematises a certain Rijeka phenomenon, namely: Borders, Port and Railway, Networks, Cinema: People are Coming!, City, Palace, Common Ground, Leisure, Monuments, and Fantastic Zones.
The exhibition, a kind of new urban hub, is an atypical exhibition that tells and interprets the history of modern urban development of Rijeka and its region, following the influences of economic, political and social processes on the architecture of the city.
This complex mosaic of stories yet untold about the urban lessons of Rijeka was created owing to the recent research carried out by DeltaLab – the Centre for Urban Transition, Architecture and Urbanism operating at the University of Rijeka.
The exhibition was opened with great applause by the audience itself, after the protocol part of the programme in which Snježana Prijić Samaržija, rector of the University of Rijeka, Idis Turato, curator of the Sweet and Salty programme and the main curator of the exhibition, Vedran Mimica, a curator and head of DeltaLab, Irena Kregar Šegota, director of RIJEKA ECC 2020, Vojko Obersnel, mayor of the City of Rijeka,  Davor Trupković, Assistant Minister of Culture and Media and Zdravko Zima,  envoy of the president of the Republic of Croatia and cultural advisor addressed the visitors.
During the evening, the audience had an opportunity to see the exhibition on three occasions with professional guidance, and the patience that had to be trained before entering the premises of Exportdrvo due to epidemiological measures was easily maintained by socialising at a distance, drinks and music.
The exhibition Fiume Fantastika: Phenomena of the City remains open until the end of November.
Until 13 September, it is possible to visit it every day from 5 pm to 9 pm, and from 14 September onwards, the exhibition will be open every day from 11 am to 9 pm.