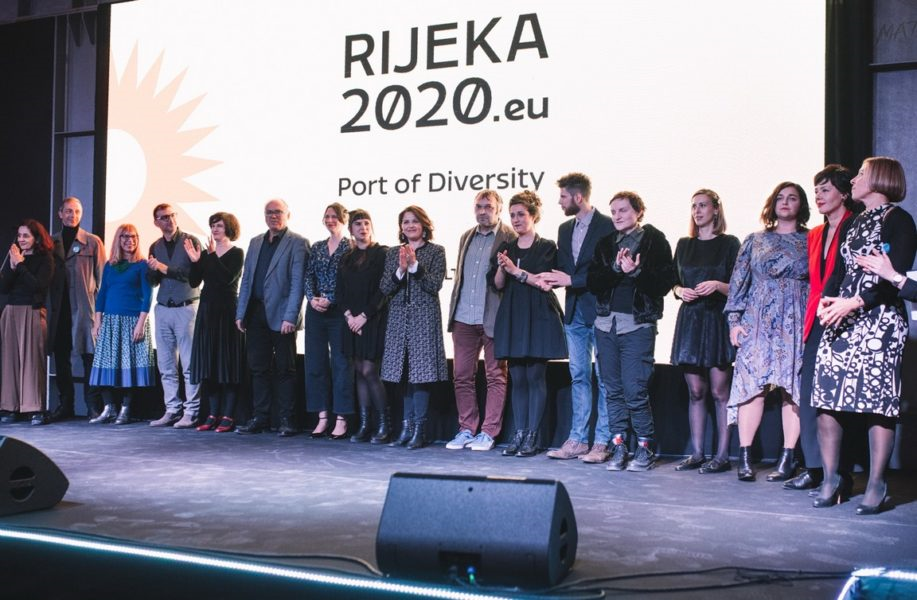 The Rijeka – European Capital of Culture 2020 programme presentation ceremony and a meet-and-greet with sponsors and reporters took place at Exportdrvo in Rijeka, which is slated to become an important venue for exhibitions and other events as part of the extensive ECoC culture and arts offer next year.
The ceremony and gathering were held in order to promote the first edition of the programme booklet, which includes the bulk of the programme scheduled for 2020 in Rijeka.
The 2020 programme was also presented to the guests with an animated video that highlights the central and most important parts: from the opening ceremony on 1 February 2020 to the large-scale exhibitions With a Collection by David Maljković, Love Death Ecstasy by Klimt, The Motion Picture is Alive by Nan Hoover, The Sea Is Glowing, the first exhibition on Professor Balthazar, which should take place at the Exportdrvo building, and numerous other historical exhibitions.
Also announced are gala concert performances by opera stars coming to Rijeka in 2020 – Karita Mattila and Elina Garanča – as well as a plethora of opera, ballet and theatre programmes, including the Needcompany Festival, which features three different plays staged by this European theatre group, the BadCo trilogy and many other shows. Special emphasis is placed on urban interventions in the public space that will provide Rijeka with a temporary pool at Delta, a children's playground next to the ship Uragan (Hurricane), as well as plenty of other beautifications of public spaces and the installation of 11 permanent sculptures across Kvarner. Also highlighted are festivals that will take place in Rijeka and its surroundings in 2020 and the children's programme, which is brimming with theatre plays.
The evening programme presentation brought together a host of esteemed guests, with speeches given by Mayor Vojko Obersnel, Ivan Šarar, Head of the Department of Culture of the City of Rijeka, Zlatko Komadina, Prefect of Primorje-Gorski Kotar County, Snježana Prijić Samaržija, Chancellor of the University of Rijeka and the emissary of the Minister of Culture – State Secretary Ivica Poljičak. Emina Višnić and Irena Kregar Šegota thanked everyone involved in the ECoC project, strategic partners, cultural institutions and organisations, project teams and all the citizens of Rijeka on behalf of the RIJEKA 2020 company, which was founded with the aim of implementing the European Capital of Culture project.
Foreign ambassadors to the Republic of Croatia, representatives of cities, towns, municipalities and ministries of Croatia, board members of large companies and media companies and a number of reporters also attended the ceremony.
"Rijeka is a city that is open to everyone because of the people that live in it. Courage and solidarity are still held in high value here and I am glad that we have been given the opportunity to acts as ambassadors of Croatia before the European cultural public. I am certain that we will shed a positive light on our city, region and country in the upcoming year and send out messages that imbue the wealth of European diversity with openness, acceptance, freedom, courage and especially persistence. We are faced with an onerous task, which is also a great honour that warrants an even greater responsibility, but we are ready", said Mayor of Rijeka Vojko Obersnel and welcomed everyone to Rijeka – the Port of Diversity.
The surprise musical guests of the evening made many people dance and also touched them. The band Ri-Val from Rijeka, consisting of protagonists from the Rijeka rock scene, premiered their new song Moj grad (My City), which is dedicated to Rijeka and was written in the period leading up to an immensely important year for Rijeka. In addition to an extensive programme that will make Rijeka one of the most interesting European cultural destinations in 2020, an array of project patrons and media sponsors, including the Austrian company Styria, have made significant contributions to the entire project and its visibility.