Goal:
The works, that have been carried out since April 2019 on an area of 15,700 square meters, form an integral part of the conversion and revitalisation project of the former Rikard Benčić complex, which with the renovation of the Sugar Refinery building that will be transformed into the Rijeka Civic Museum, the T building into the Civic Library, and with the construction of the Children's House will become the cultural quarter of Rijeka.
Given the situation in the area and the planned contents and programmes, as well as newly predicted facilities in the existing buildings, the project relating to the refurbishment of the public areas included a building solution to new infrastructure, as well as a solution to the problem of excessive water that occasionally causes serious problems in the area. Since the whole area undergoing refurbishment is depressed compared to the surrounding roads, with the Brajda stream flowing there, the refurbishment of public areas and the construction of new infrastructure is very complex and requires special regime during construction in terms of protection from groundwater.
Concept: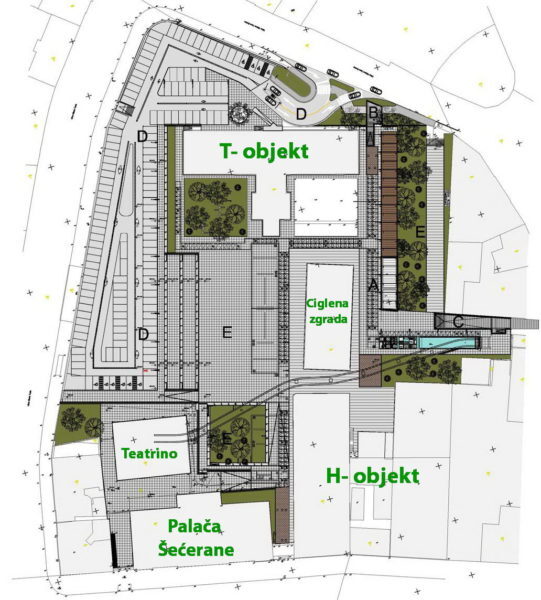 The project documentation includes the construction of a new water supply system, a new drainage system for rainwater and sanitary water, electrical systems, mechanical and thermo-technical systems, a duct system. As part of infrastructure construction, the construction of energy channels, precipitation retention structures with pumping stations, aggregates, pumping stations for sanitary drainage, substations are envisaged.
The central ground floor space between the buildings will be organised as an open space with the function of a public square with various urban interventions in the form of green islands, theme parks, footpaths, urban facilities.
In the part of the ground floor towards Nikola Tesla street, an uncovered car park will be put in place with 155 parking spaces, 12 of which are intended for the parking needs of people with disabilities.
The project was prepared by G.D. – Arh Velebitska 16, 21000 Split, and the main designer is Dario Gabrić.
The works for the refurbishment of the public area within the former industrial complex Rikard Benčić, are carried out by the association of bidders GP KRK from Krk and FIDAL from Rijeka, while the professional and accounting supervision of the construction is carried out by the company Rijekaprojekt from Rijeka.
Investment value:
The value of the works amounts to HRK 40,343,263.86, without VAT or HRK 50,429,079.83 including VAT.
Co-financing:
The works are co-financed by the utility company Vodovoda i kanalizacija from Rijeka in the part concerning water installation and sanitary drainage.
Duration:
The contractor initiated the works on 23 April 2019. The agreed deadline for the completion of the works for the temporary refurbishment of the public spaces in the Benčić complex is 30 November 2020.