Project scope
This project comprises the reconstruction and equipment of the T-building as the Civic Library, namely its transformation into an object of public culture and for educational scopes.
The applicant and the project promoter is the City of Rijeka in partnership with the Rijeka Civic Library.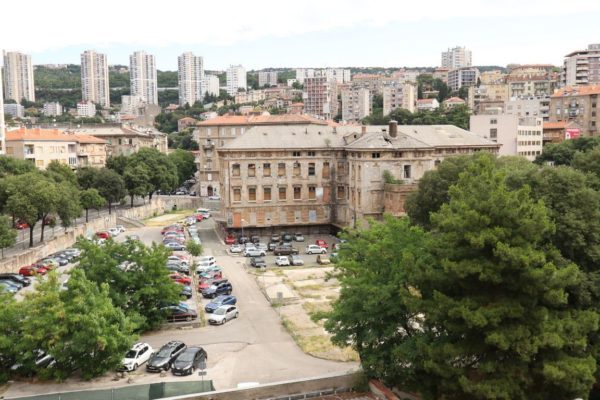 Purpose of the building
T-building has a net surface of 4,530 sq. m., a gross surface of 5,826 sq. m. The T-building, due to the reconstruction, changes its purpose from former industrial into cultural and public and becomes the central and most eminent building from the architectural point of view of the Rijeka Civic Library available for all citizens and visitors, first in Rijeka history that will in one place integrate functions and services of the central library departments in a quality manner.
The building will accommodate currently dislocated departments of publicist writing/science, literature, the public reading room, the department of periodicals (with appertaining repositories) and general affairs, procurement and processing services, registry and library development services for PR and programmes.
European funds for reconstruction
The reconstruction of the T building and its transformation into the Civic Library is being implemented within the Operational Programme "Competitiveness and Cohesion 2014-2020". The source of financing is the Operational Programme for Competitiveness and Cohesion 2014-2020 (EU grant) and the own contribution of the City of Rijeka and project partners. In accordance with the agreement signed on 16 July 2018 with the Ministry of Regional Development and EU funds, a European grant worth HRK 68.21 million was assigned to the project relating to the reconstruction of the Children's House and the Civic Library.