An inaugural visit paid to the Primorje-Gorski Kotar County and the City of Rijeka by H.E. Genka Georgieva, Ambassador of the Republic of Bulgaria, proved to be an opportunity to consider and propose new possibilities for establishing cooperation between small and medium-sized companies, which are driving forces of development in both countries.
The County President Zlatko Komadina and Mayor Vojko Obersnel with their associates received at the seat of the Primorje-Gorski Kotar County, H.E. Genka Georgieva, Ambassador of Bulgaria to the Republic of Croatia during her inaugural visit.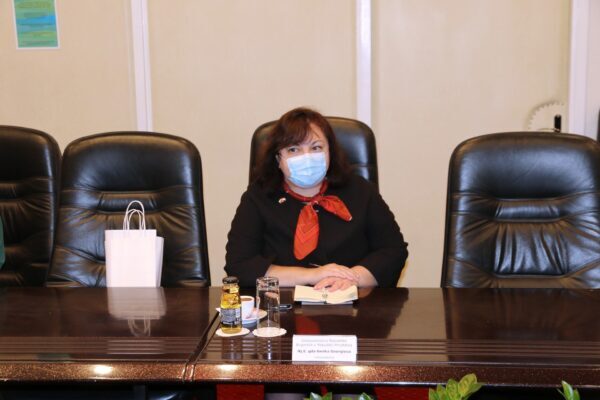 This is the second visit of the Bulgarian Ambassador to Rijeka, since she was our guest at the opening ceremony of the European Capital of Culture. During the inaugural visit to the Primorje-Gorski Kotar County and the City of Rijeka, she will take part in a meeting of Bulgarian companies that will visit the Croatian Chamber of Commerce – County Chamber Rijeka within the trade mission to Croatia, where business meetings with Croatian companies will be organised and a visit to the Kukuljanovo Industrial Zone.
Thanking for the reception, Ambassador Georgieva pointed out that Bulgaria had many contacts and good relations with Rijeka. The legacy of Nestoroff, which is very important for Bulgaria, is located in the Memorial Library in Rijeka and in the collection of Mažuranić in Villa Ružić. "In recent years, we have had the opportunity to host Rijeka in Plovdiv and Burgas, which is also a sister city of Rijeka, and both cities have a similar structure and potential for development. Today's talks open a new page in economic co-operation between Bulgaria and Rijeka. More than 40% of small and medium-sized enterprises in Bulgaria are included in innovative technology and digitisation projects, and a good part of production is related to pharmaceuticals and cosmetics. The ambassador said that many companies were interested in cooperation with Croatia, including a company producing biodiesel. "Bulgaria needs the easiest and most practical way to transport this fuel in order to avoid road and rail transport, therefore we are considering a shipping option, and this will be discussed at a video conference between the two chambers of commerce, as well as during a return visit," concluded Georgieva.
Mayor Vojko Obersnel said that they discussed the cooperation so far, which was mainly related to culture. Burgas is our sister city, a large port of the Black Sea, a significant tourist and industrial centre. "Last year we were in Plovdiv, which was the European Capital of Culture, and started certain talks about possible cooperation. Today we have talked about the possible performance of the Opera from Burgas in Rijeka's at the CNT, but we did not forget the economy, because Bulgaria has a strong pharmaceutical industry, and we in Rijeka have one extremely strong company in that field – Jadran Galenski laboratorij. There is mutual interest and I believe that we will be able to organise a return visit in order to establish closer cooperation in the economic field as well, "said the mayor.