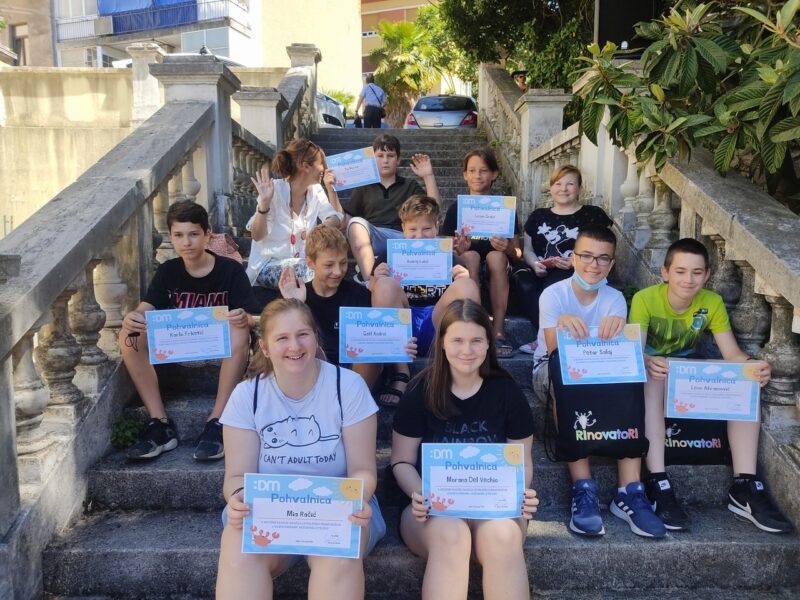 After three weeks of creative workshops, the summer part of the RInovatoRI programme – Summer RInnovation Lab has been closed.
Overall 19 participants attending elementary schools in Rijeka took part in the school of entrepreneurship, which this year dealt with modern technology and its application. Already during the first week, a visit was organised to the Torpedo Production Park – Rijeka's expert centre for additive and 3D technology, where RInovatoRs learned first hand about scanning and printing on industrial 3D printers for polymers, sand and metal. They additionally learn about this modern technology from a guest lecturer Anita Pešut, and then they hosted Miroslav Vrankić from the Technical Faculty in Rijeka. On that occasion, RInovatoRs got acquainted with assistive technology through the inspiring and emotional story E-Glas, a company started in 2009 by scientists from the Technical Faculty in Rijeka, with the purpose of helping children with difficulties and disabled people.
Furthermore, RInovatoRs were introduced to other cutting-edge technologies such as virtual and augmented reality, chatbots, nanomaterials, smart cities and today's very current autonomous road vehicles.
In the second part of the programme, after getting acquainted with the basics, RInovatoRs assembled their own robot – STEMI Hexapod, and in this feat they were helped by its co-creator Marin Trošelj with a motivating online lecture.
The last and most creative part for the participants of the Summer RInnovation Lab was designing possible applications of Hexapod robots in everyday life.
Details about these RI-innovative projects can be found on Facebook of RInovatoRs.
On the last day of the RInovatoRI summer school of entrepreneurship, they received awards and gifts, and they also tried their hand at the board game RI-Route, designed by previous paticipants.
Additional information about the project is available on the website RinovatoRI.