The representatives of the City of Rijeka and the Primorje-Gorski Kotar County gave a reception in honour of the Ambassador of Canada to the Republic of Croatia, H.E. Mr. Alan Bowman.
The Canadian Ambassador has arrived to Rijeka on the occasion of a handover ceremony of a ship built at the shipyard "3. maj" for a Canadian client. Namely, today at the shipyard a handover ceremony has been organised of a ship worth USD 36.5 million "Algoma Intrepid" to the Canadian ship-owner Algoma Central Corporation.
Wishing a warm welcome to Rijeka and the Primorje-Gorski Kotar County, Rijeka Mayor Vojko Obersnel and the president of the County Assembly Fabijanic expressed their gratitude for the trust of the Canadian company that had continued to order ships at the Rijeka shipyard, regardless of the difficult circumstances in which "3. maj" had been at the time.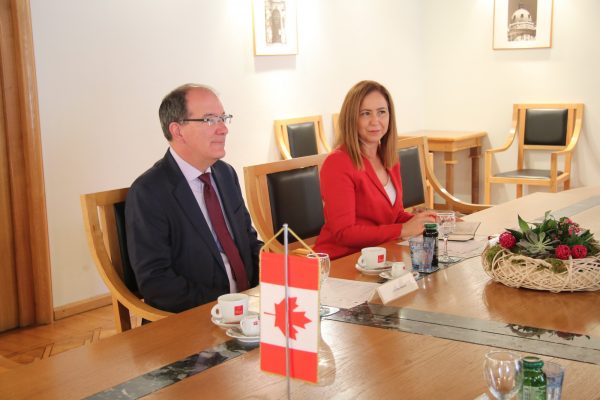 "Croatian shipyards have a good reputation in Canada and Canadian customers are satisfied with the delivered ships. The 'Algoma Intrepid' ship will be fitted with high technology from Canadian manufacturers. Therefore, I can say that this is a win-win project, which creates jobs in both Croatia and Canada and greatly contributes to good relations between the two countries, "said Ambassador Bowman.
This is the Canadian ambassador's fourth visit to Rijeka in his current one-year term. He visited our city and county for the first time during the grand opening of Rijeka – European Capital of Culture, at the end of February he was a guest at the International Rijeka Carnival and the Carnival Charity Ball, and in mid-September he visited the exhibition "Hysterical Machines" by Canadian artist Bill Warn, put on within the Rijeka 2020 – European Capital of Culture project.
The reception was also attended by the deputy mayor of Rijeka Marko Filipović and the president of the Rijeka City Council Andrej Poropat.