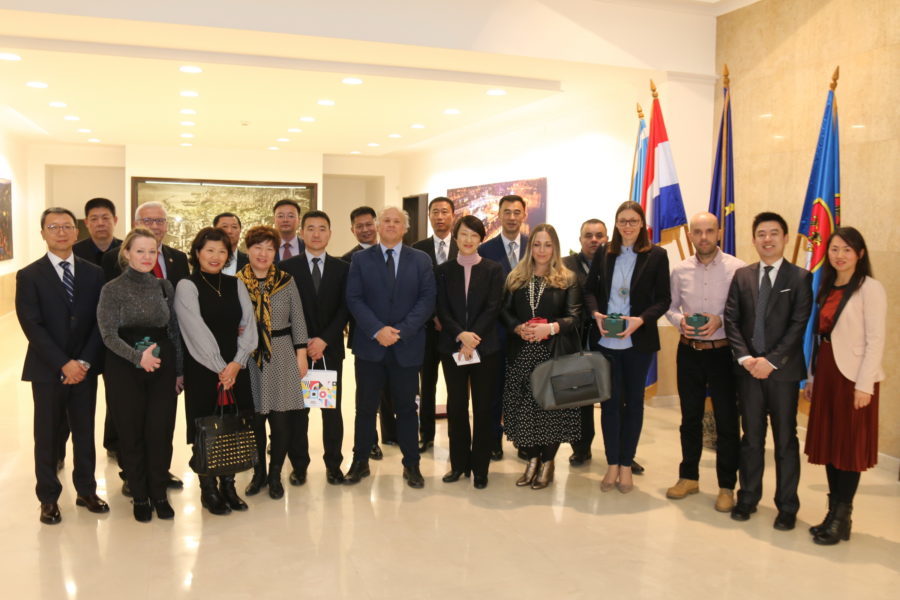 The City of Rijeka has given a reception for a business delegation from the friendly Chinese city of Dalian.
The delegation from Dalian is led by Wang Yi, deputy general director, Office for International Cooperation, City of Dalian, with city diplomats, directors and representatives of eight companies operating in the field of construction, medicine, commerce, real estate and tourism.
On behalf of the City of Rijeka, the business delegation from Dalian was received by Srđan Škunca, Head of the City Department of Development, Urban Planning, Ecology and Land Management, Jana Sertić, Head of the City Department of Entrepreneurship and, on behalf of the City Council of the City of Rijeka, by Tea Mićić Badurina, president of the Committee for Interurban and International Cooperation, in the presence of Tvrtko Tomljenović, Head of the Department of EU Projects and International Cooperation with the Rijeka Port Authority, Senka Maćešić, Vice-rector in charge of computerisation and organisation of the University of Rijeka, Dominik Damiš, Head of Marketing with the Rijeka Tourist Board and Vidoje Vujić, president of the Croatian Chamber of Commerce – Rijeka County Chamber.
During the meeting, the guests and the hosts discussed the traffic development of Rijeka, investment in a modern railway line and modernization of the Rijeka transport corridor, how to attract investments by Chinese companies in Rijeka and its surroundings, as well as, potential cooperation of the University of Rijeka and the Dalian Jiaotong University in the field of technical sciences. Furthermore, they also discussed support provided by Dalian to Rijeka 2020 – European Capital of Culture, with the announcement of an official visit by representatives of the City of Dalian during this great cultural programme. As a token of permanent friendship between the two cities, Dalian will donate a sculpture that will be placed in a public area.
The business delegation from Dalian also held a meeting with representatives of the Croatian Chamber of Commerce – Rijeka County Chamber and local businessmen. They will also visit the port of Rijeka, namely Zagreb and Brajdica container terminals. During their visit to Rijeka, envisaged to last from 9 January to 12 January 2020, the delegation will also meet with the Rijeka branch of the Croatian-Chinese Friendship Society.
About the city of Dalian and friendship with Rijeka
The agreement whereby establishing friendly cooperation between Rijeka and Dalian was signed in 2006, together with the cooperation agreements that were signed by the two chambers of commerce.