About the project
Investments in the waste collection and management system continue with the project relating to the construction a sorting plant. Sorting plants are among the important parts of the waste management system, given that the sorting of separately collected waste increases the quality and value of separately collected useful raw materials from waste, and thus the placement of these raw materials in the market. This will help increase the recycling rate of municipal waste and reduce the amount of waste disposed of in landfills, thus ensuring preparation for reuse and recycling of paper, metal, plastic and glass from the household, in a minimum share of 50% of its weight, whereby directly impacting the achievement of the European goal of reuse and recycling of municipal waste.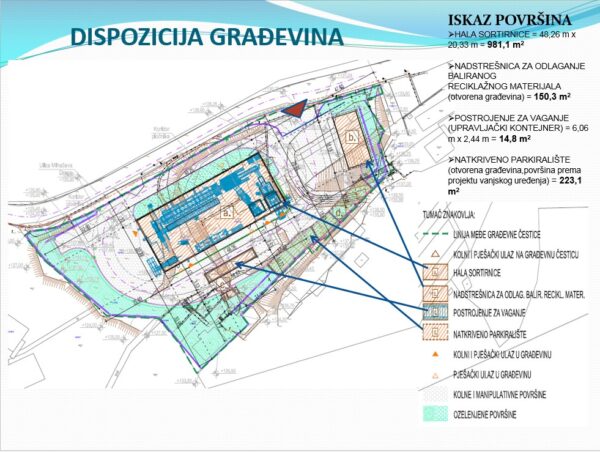 The planned quantity of previously separately collected waste that will enter the centre daily is approximately 50 tons, which requires a capacity of up to 7 tons per hour of pre-sorted municipal waste that enters the plant.
It is envisaged that the following materials will be separated in the plant:
plastic
cardboard
paper
PET
MET
textile
glass
metal
A plant for sorting separately collected waste (sorting plants) in Mihačeva will be built on a total area of 5,636 sq. m.
A recycling plant will be located in a hall of the sorting plant, baled sorted recycled material will be temporarily stored in the canopy for disposing baled material, and a weighing plant will be used for weighing vehicles that will deliver waste and transport baled sorted material suitable for recycling.
Solar panels are envisaged on the roof of the sorting hall, that would produce electricity for the needs of the sorting plant, thus contributing to environmental protection and reduction in operating costs.
Local self-government units, founders of the utility company Čistoća, participate in the project by co-financing the remaining part, up to the total project value, according to the criterion of assessing the current share of individual local self-government units in the total amount of waste. The final share will be determined after project realisation.
For this project, the City of Rijeka has prepared project documentation, i.e. the main and detailed design, has drawn up a feasibility study, has obtained a building permit and has resolved property relations at the construction site.
On 20 Feb. 2020 a grant agreement was concluded for projects financed under EU funds in the financial period 2014-2020 with the Ministry of Environmental Protection and Energy (PT1) and the Fund for Environmental Protection and Energy Efficiency (PT2) in the amount of eligible costs of HRK 36,805,050,09 of which EU Funding amounts to: HRK 31,284,318.09 (ie 85% of the amount of eligible costs).