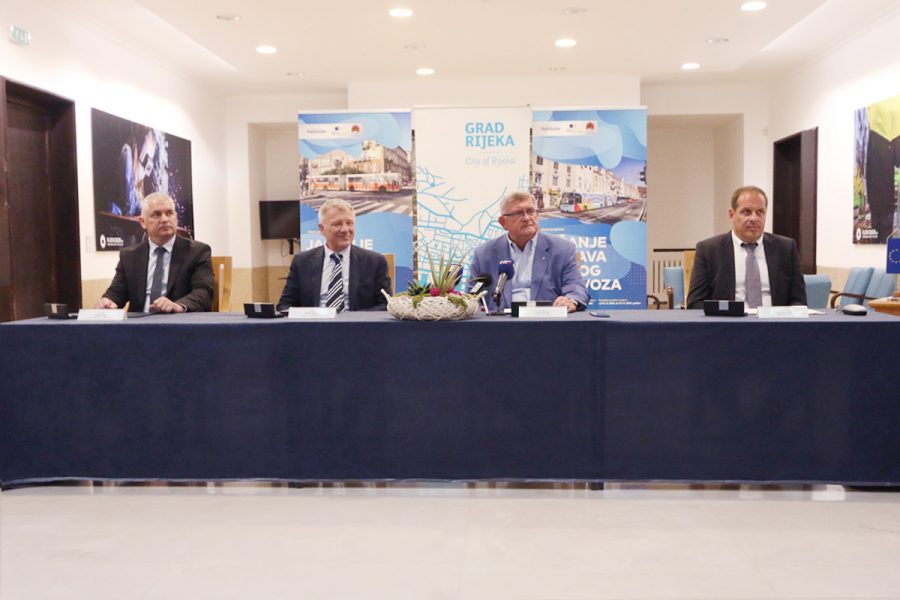 At the City of Rijeka, contracts have been signed for the acquisition of the remaining 17 buses out of overall 32 new buses for Autotrolej through the project "Strengthening the Public Transport System" with the aim of modernising the existing fleet and improving public transport services.
Mayor Vojko Obersnel thanked everyone who helped realise the signing of the contract which enabled the purchase of 17 new buses, of which diesel 7 articulated low-floor buses of the brand MAN Lions City G, capacity 143 passengers and 10 solo vehicles of the suburban type Crossway Low entry Iveco, capacity 76 passengers, fuelled by compressed natural gas (CNG), which total value amounts to HRK 65 million including VAT. The mayor expressed his hope that over time the purchase of electric buses would take place and added that through the engagement of the Ministry of Transport, a total of 54 new buses had been realised under EU funding. He believes that all three leading project goals have been successfully achieved, and the delivery of new buses is expected next year, in the first quarter.
Funds for implementing the project "Strengthening the Public Transport System" are provided under the Cohesion Fund through the Operational Program Competitiveness and Cohesion (OPCC). The total project value amounts to HRK 81,003,357.91, while the approved EU grants within this amount amount to HRK 54,563,477.00. The total eligible costs amount to HRK 65,602,795.91, and the residual amount is provided by the utility company Autotrolej and project partners: the City of Rijeka and Rijeka promet. Within the project, information displays will be introduced at bus stops, smart traffic lights will be installed at intersections, and a mobile and web applications will be developed that will announce bus arrivals.
The objectives of the project are to improve capacity, reduce operating costs, reduce emissions and air pollution, increase the number of passengers in public transport compared to personal vehicles, adapt to EU standards, introduce modern passenger information systems and increase the availability of information for passengers.
The funds were obtained through the Integrated Territorial Investment Mechanism (ITU mechanism), which the City of Rijeka can use as part of the Rijeka Urban Agglomeration.
The acquisition of these buses is a continuation of the modernisation process of the bus fleet of Autotrolej, within which 22 new buses were purchased with EU funds last year through the project "No regret" under the EU Cohesion Fund, when 38 million kuna grants were provided.
In addition, Autotrolej has procured 40 new buses worth almost 74 million kuna in recent years, which are fuelled by compressed natural gas.
Ultimately, Autotrolej currently has 156 vehicles at its disposal, and with the purchase of overall 54 new vehicles, the average age of the bus fleet of Autotrolej will be 6 years.