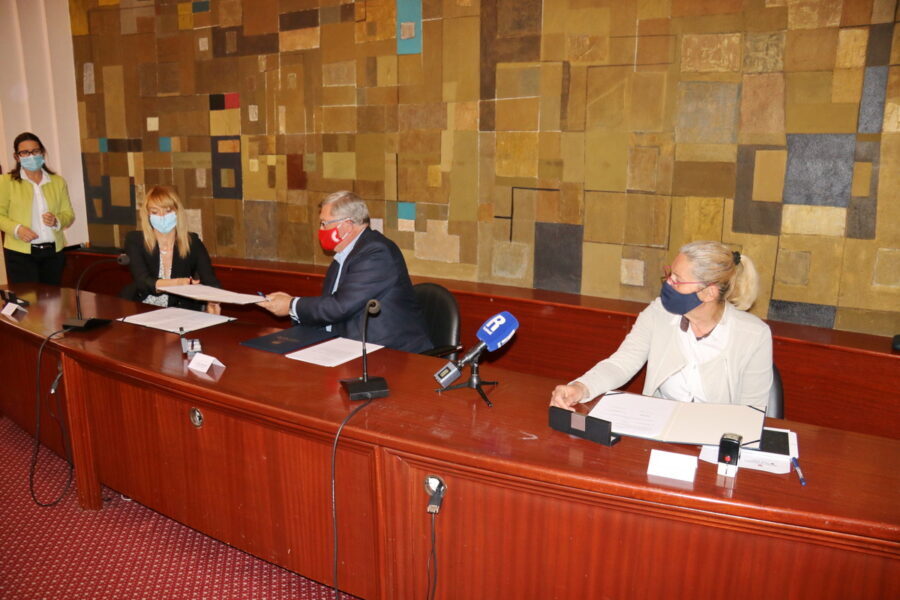 The City of Rijeka, the Croatian Swimming Federation and the Rijeka Sports Adssociation signed an agreement on the organisation of the European Junior Diving Championships in June at the Kantrida Swimming Pools.
The European Junior Diving Championships is a swimming competition that brings together about 170 competitors aged 15 to 18 from all over Europe. The hosting and organisation of this year's competition was awarded to Rijeka by LEN, higher-ranking European organisation for water sports at the end of February, and it will be held from 21 to 27 June 2021.
The organisers hope that the epidemiological situation would improve by June, when the competition will take place, but also they are preparing for a possibility that the competition is held by adhering to strict epidemiological measures. Thus, in close cooperation with the epidemiologists of the Public Health Institute, it has been agreed that all participants are accommodated in one hotel, without other guests, that they would be tested before arriving in Rijeka, before arriving at the Kantrida Swimming Pools and during the competition and every national team would have its own bus at disposal.
Let us remind you that the Rijeka Sports Federation and the Diving Club "Primorje 2010" were the organisers of the European Junior Diving Championships in 2016, with the presence of overall 176 competitors from 28 countries.
Overall 4,852 swimming competitions have been held at the Kantrida Swimming Pools since the opening of the complex in 2008.
At the Kantrida Swimming Pools, in addition to the training of athletes of all ages, sports recreation for citizens is also organised, i.e. the users of the swimming pools are clubs, associations, institutions, leaseholders and citizens.
The swimming pools in Rijeka have been recognised by internationally successful athletes and coaches, and numerous national teams have chosen the Kantrida Swimming Pools as a place where they can prepare themselves for important swimming competitions.