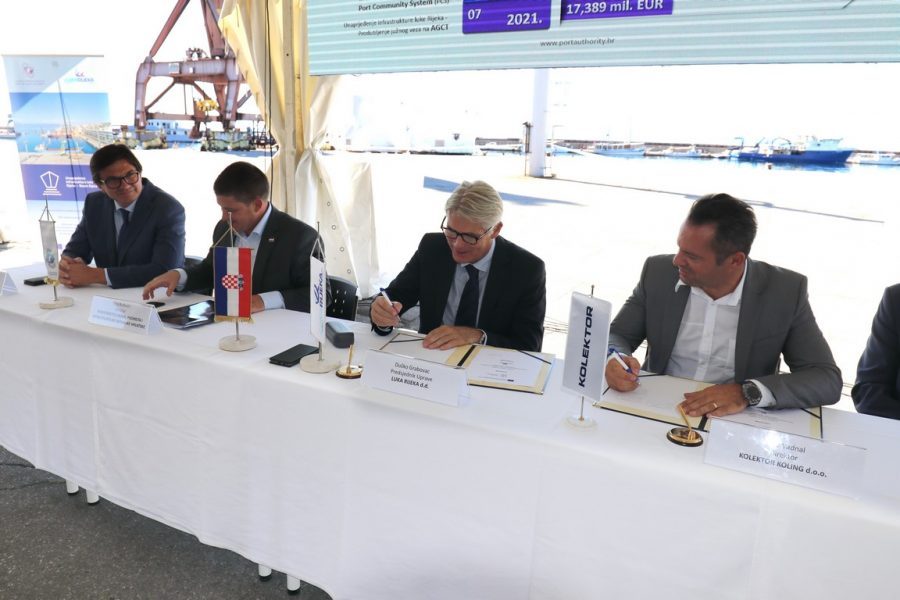 The president of the Management Board of the Port Authority of Rijeka and the director of Kolektor Koling, on behalf of the contractor, signed a contract for infrastructure reconstruction in the Rijeka port basin in the amount of HRK 214,179,131.26 (exclusive of VAT).
The project titled "Upgrade of the Rijeka Port – Rijeka Basin infrastructure (POR2CORE-RIJEKABASIN)" is co-financed by the European Union under the Connecting European Facility. It is a joint project of the Port Authority of Rijeka and the Port of Rijeka, totalling EUR 33,664,078.00, in respect of which EU approved 85%.co-financing. The deadline for the completion of works is 30 months after the beginning.
By realising this investment, connection of the entire Rijeka Basin with the railway network in the hinterland and indirectly towards European corridors will be upgraded, by removing the existing dilapidated and operationally unsuitable railway infrastructure and reconstructing the existing pavement and storage areas, tracks, crane tracks and accompanying port infrastructure, in accordance with technical requirements. The contractor is the Slovenian company Kolektor Koling.
On that occasion, Mayor Vojko Obersnel emphasised that the common denominator of all projects that had started in 2003, by signing a contract for the Rijeka Gateway project, proceeding with the construction of the D404 road, and widening of the Brajdica Terminal, with the construction of the Zagreb Deep Sea Container Terminal and the beginning of the construction of the D403 road, are the strengthening of the Rijeka traffic corridor and returning the port to its historical position as the first port of the Adriatic Sea.