In front of the mausoleum of Laval Nugent (1777 – 1862) Peace of Heroes at the Trsat castle there are two statues of basilisks made by Austrian sculptor Antun Dominik Fernkorn (1813 – 78) that date back to the second half of the 19th century.
For many years at the same location there was only one sculpture, but originally in front of the mausoleum there were two almost identical basilisk sculptures, better known as the Trsat dragons.
One investment project promoted by the City of Rijeka at the Trsat Castle related to the reconstruction and production of a replica, in situ of the basilisk sculpture which parts (about 70% of the fragments that had been found) were stored in the depot of the Rijeka Civic Museum and the rehabilitation and restauration of the sculpture that was located in front of the Trsat mausoleum.
In a tendering procedure held in Sept. 2012, artworks foundry Ujević from Zagreb was chosen for the performance of the described works.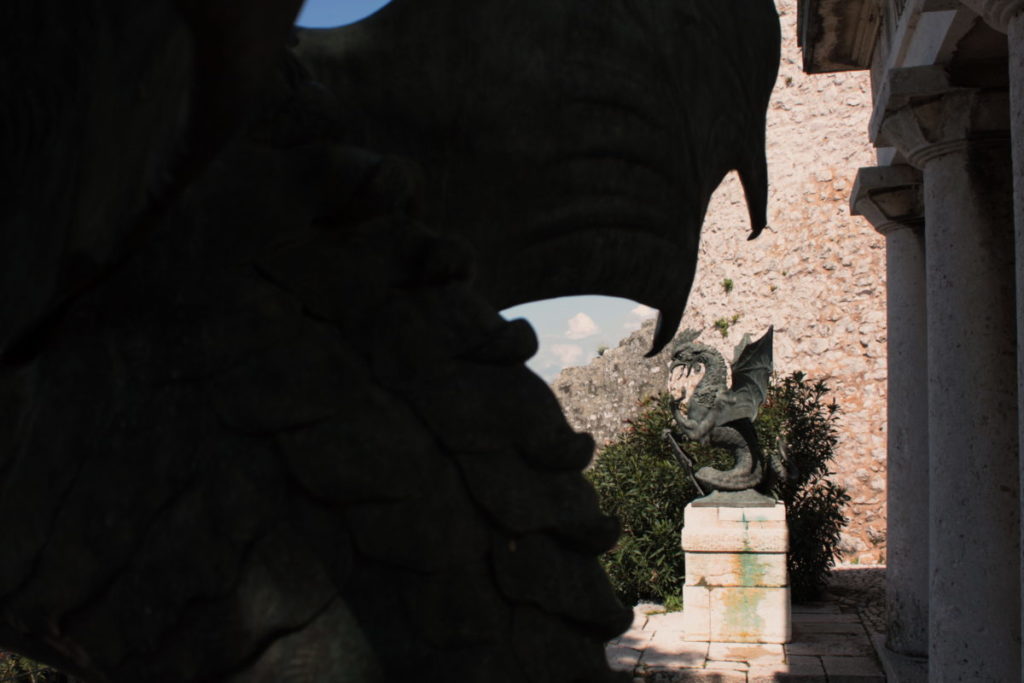 Following this, in the first half of 2013, both reconstructed and restored sculptures of the Trsat basilisks made by A. D. Fernkorn were placed in situ. The City of Rijeka invested in the rehabilitation and restauration of the sculptures HRK 439,350.00, collected on behalf of the monuments annuity.
Around 1862, Austrian sculptor Antun Dominik Fernkorn (author of the Ban Jelačić monument in Ban Jelačić Square, Zagreb) made two bronze sculptures of basilisks for the mausoleum of field marshal Laval Nugent. The sculptures were made as a pair; they are almost identical, save for some details. The Trsat basilisks are 1.40 m high and the line from the comb to the end of the tail is 3.80 m long.
The basilisk on the Eastern side holds the field marshal's baton and the charter while the other on the Western side holds a shield. Both sculptures were produced in the imperial and royal foundry Fernkorn in Vienna and are very similar to sculptures of basilisks made around the mid 19th century also by Fernkorn for the Bosiljevo Castle of Laval Nugent.