Project Goal: To develop and implement a fast qualification programme for Junior Developers in accordance with the needs of IT employers in the Primorje – Gorski Kotar County, following which, at least 40% beneficiaries will be employed.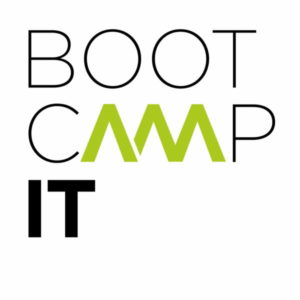 Project duration: 17 May 2018 – 16 November 2019
Project description and activities:
Bootcamp IT Project will reduce the difference between market needs and available labour force owing to intensive qualification for the profession as Junior Developer, in addition to the development of basic business skills, that will be implemented in two cycles for unemployed persons.
84 unemployed and long-term unemployed persons will go through a process of professional orientation and employment counselling, out of this number 42 persons will be chosen for education for a profession in short supply in the IT sector. 20 business entities will take part through market analysis in order to determine recruitment needs for further development, mentoring participants and presentation on the online platform Start IT that will be developed for presenting an IT campaign, advertising the needs and getting in touch with potential employees.
Methodology data relating to market analysis, training and monitoring of unemployed people that will be used in project implementation will be issued in a form of a textbook.
Upon the termination of the qualification process, the participants will be qualified for further professionalisation in the real sector and linked with potential employers, employers will get an insight into available, qualified labour force and its abilities and affinities.
Partners:
Centre of Technical Culture Rijeka, project developer
City of Rijeka
Croatian Employment Service – Regional Office Rijeka
Primorje – Gorski Kotar County
Step Ri , Science and Technology Park of the University of Rijeka
Project value: HRK 963,135.36; 100% co-financed by the European Union.
Financed under: Structural Funds – European Social Fund – Operational programme Efficient Human Resources 2014 – 2020
Competent authority: Within the public invitation of the Local Initiative aimed at encouraging employment -Phase III, announced by the Ministry of Labour and the Pension System
Official website: https://start-it.com.hr/
Contact person:
Hana Galogaža Lanča
Centre of Technical Culture Rijeka
hgalogaza@ctk-rijeka.hr