Project Title
Young entrepreneurs in action
Project Goal
Teachers and professional associates from all partner schools exchange experiences, develop educational materials and strengthen cooperation in order to develop, in a creative and innovative way, one of basic literacy skills for the development of modern society, financial literacy.
Duration
1 Sept. 2017 – 31 Aug. 2019
Description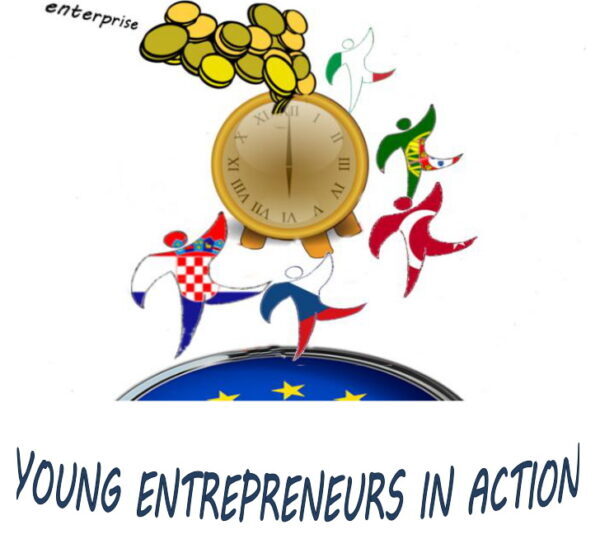 Through a variety of activities, students develop awareness of the importance of behaving responsibly towards all the goods that we have, the importance of saving, sharing and reusing things.
Teachers and students are encouraged to take an active approach in developing entrepreneurial spirit and developing entrepreneurial competencies. Teachers are continuously sensitised to the introduction of new teaching methods suitable for acquiring entrepreneurial skills. The development of entrepreneurial competencies takes place at workshops where students design and create their own products and services, learn entrepreneurial concepts, develop basic entrepreneurial skills, notice connections and relationships in production, control cash flow, design a marketing campaign.
Objectives of the project:
develop linguistic competences for pupils in 6 participant schools;
develop financial literacy so that students understand what is money, how to plan a budget, controlling cash flow;
develop habits of saving, responsible and rational spending of all resources at their disposal;
encourage the children to take the initiative in their families, among friends, in the classroom, in the community;
develop the skills of reading, writing and expression; develop entrepreneurial spirit, strengthen self-confidence, enthusiasm;
encourage children and motivate them to share goods with the needy and volunteering;
develop IT competences in order to use ICT in a safe and responsible manner, as a tool for the creation of new values, learning and collaboration;
allow the children to see how they can create new values, to learn the ways in which they can acquire their own work and earn a living;
develop love for learning and work; develop cooperating skills and the collaboration with European schools;
encourage kids with special needs, those whose parents left abroad and low income kids to get involved in projects;
promote the national identity, values and traditions, tolerance, cultural and social differences.
Partners
1st elementary school Čakovec
Elementary school Vežica, Rijeka
Agrupamento de Escolas de Vale de Ovil, Baiao, Portugal
Istituto Comprensivo Carducci Paolillo, Cerignola, Italy
Akcansa Fatih Sultan Mehmet Ortaokolu, Istanbul, Turkey
Masarykova základní škola a mateřská škola Velká Bystřice, Velká Bystřice, Czech Republic
Budget
Total project value: EUR 133,545.00 (100% EU funding)
Budget of ES Vežica: EUR 20,555.00
Financed under
Erasmus+, key activity KA 219 – School partnerships
Official website
Contact for more information
Osnovna škola Vežica
Kvaternikova ulica 49, Rijeka
Tel: +385 51 453 868
E-mail: iskola@os-vezica-ri.skole.hr