Project Title:
Energy renovation of buildings and use of renewable energy sources in public institutions that perform educational activities
Project Goal:
Achieving energy savings – reduction of energy consumption in public sector buildings where public educational activities are performed.
Duration: January 2016 – June 2017
Competent authority:
Ministry of Construction and Physical Planning, pilot project 4c1.1
Key activities:
Achieving energy savings through energy renovation of public sector buildings that perform the activities of preschool, primary, secondary and higher education.
Following a public call, the City of Rijeka realised the right to grants intended for energy renovation of four buildings: ES Nikola Tesla, ES Fran Franković, kindergartens Krijesnica and Turnić. The realisation of the mentioned projects will result in reduced energy consumption in public buildings, and will also help create a more favourable microclimate for work, it will extend the building's duration, reduce the building's maintenance costs, reduce the financing of energy consumption expenses, reduce energy consumption, reduce CO2  emission, and will contribute to economic development in the amount of the mentioned investments.
Budget:
Total project budget: HRK 10,546,027.41
EU funding: HRK  2,470,681.17
Funded by the FEPEE: HRK 3,294,241.56
Financed under: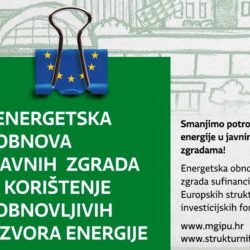 The funds are allocated from the Structural Fund – European Regional Development Fund – Operational Programme " European Regional Development Fund (30%) of justified costs.