The e-Government bench-learning project was implemented at the Knowledge Society Forum organised within Eurocities. The project goal is to gain knowledge on the application of electronic public services in the activities of local administration. The Task Force was chaired by the City of Barcelona.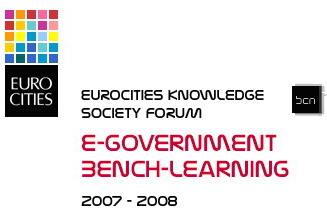 Project goals:
Gain better understanding and knowledge about the implementation and acceptance of e-Government solutions:
Carry out research – learning about e-Government services and their acceptance
Raise awareness about the need to measure the influence of e-Government services and their adoption and application of better results in more efficient administration
Raise the awareness of the European Commission about the activities of the Eurocities, network of major Europan cities and the role that the cities play in the new European knowledge society
strengthen  the role of the Eurocities network as a representative network of local administration
contribute to e-Government project transfer
contribute to good practices database of the EC
Cities, project participants:
In addition to Rijeka and Barcelona, the following cities took part in the project: Antwerp, Ghent, Gijon, Glasgow, Leipzig, Manchester, Marseille, Munich, Oulu, Prague, Sampas, Tallinn, Turin and Vienna.
More about the project:
The goal of the project is to carry out research tied to the electronic public services offered by local administrations in Eurocities member countries.
"Benchlearning" is an educational method whereby, in order to realise better effects when compared with others, gaining better understanding and knowledge about its own business operation.
The main impulse to this project came as a result of a lack of general indicators that could be applied locally, since the majority of the studies carried out so far were nationally centred.
The long-term result of this project is aimed at raising the awareness of the European Commission and Member States about the key role that cities and local administration can play in the development of eGovenment, supporting standardisation and in aligning these processes.