Project Title:
Easy Towns II – European Accessible Sustainable Young Towns II
Project Goal:
The main objective of the project is to gather good practices and explore how citizens through art and cultural heritage can be the carriers of local change, encourage dialogue and contribute to the policy making process.
Description: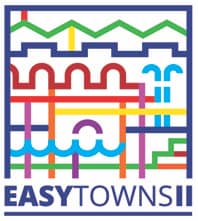 The Easy Towns II project is a continuation of a successful project that was implemented in the period form 2015 to 2017 and it included more than a thousand young people from 10 European countries.
It gathers partners from 11 European countries and deals with youth, intercultural dialogue, inclusion, integration and cultural heritage.
During the past 2 years, young citizens questioned themselves about the concept of inclusion in their towns and how they could contribute to a better daily-life environment. Through a creativity contest they gave eyes and voice to their visions and ideas. They are now ready to support cities in involving a wider number of citizens in bringing on the change, using again art and culture as a means for goals reaching. All partner cities are well known for their local cultural heritage (UNESCO sites, EU capitals of culture – past and future) and this is an important element of pride for their citizens, something they are well aware of and which attracts them. For this reason, cultural heritage will be put at the central stage of the project, to show citizens how diversity lays behind any form of culture and art and contributes to its beauty. The local tangible, intangible and natural heritage will be re-visited by youths to become the channel through which communicate EU values of peace, respect and cooperation among different cultures.
Project activities
Within the project, a total of 5 international events and 24 public events will be organised with special emphasis on participation of youth.
Project results:
The results will be collected in form of a multi-media portfolio of experiences, which will become the digital heritage to be shared and exchanged in the 10 participating Countries with the slogan "how past can speak about future".
Partners:
Municipality Heist-Op-Den Berg (Belgium). leading partner
Municipality of Vicenza (Italy),
Mikiel Anton Vassalli College (Malta),
Municipality of Knezha (Bulgaria),
Municipality of Niepolomice (Poland),
Municipality of L'Alfàs del Pi (Spain),
City of Pula (Croatia),
Municipality of Arad (Romania),
RIJEKA 2020 Llc (Croatia),
Univerzita Mateja Bela V Banskej Bystrici (Slovakia),
City of Pforzheim (Germany) and
Development Agency Kozjansko (Slovenia).
Duration:
From 1 Oct. 2018 to 30 Sept. 2020
Budget:
Co-financed by the EU: 146,160.00 EUR
Financed under:
The Europe for Citizens Programme
Web site of the project
https://rijeka2020.eu/projekti/eu-projekti/easy-towns-ii/
https://www.facebook.com/EasyTowns