Project goal: mySMARTlife project is aimed at creating an urban transformation strategy in order to provide assistance to the cities in defining a transition model that will help them to achieve excellence in urban development processes, by responding to major challenges that the cities encounter in their endeavour to approach the concepts of smart cities and smart economy.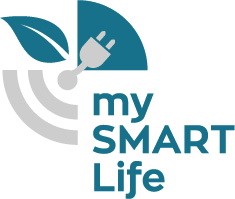 Project duration:1 Dec. 2016 – 30 Nov.2021 (60 months)
Description: Defining an advanced urban planning process will serve as an instrument for achieving ambitious goals laid down by the Urban Transformation Strategy. The advanced urban planning process includes an integrated approach to planning interventions in cities on the basis of rigid evaluations of the impact of each intervention, the approach of active citizen inclusion in the city management process and structured economic approach, from the perspective of an urban business model to an economic framework for large companies and local small and medium-sized firms and start-ups.
Nantes (France), Hamburg (Germany) and Helsinki (Finland) are the so called "lighthouse" cities, while Varna (Bulgaria), Bydgoszcz (Poland), Rijeka (Croatia) and Palencia (Spain) are the so called "followers". All of them will be included in the Renewal of part of the city and smart houses development – Smart district; Smart energy – offer and demand; IKT development and urban platforms development; sustainable mobility – smart mobility, improved – smart public lighting.
Key activities are planned and will be carried out in three lighthouse cities: Nantes (France), Hamburg (Germany) and Helsinki (Finland). Four cities followers – Varna (Bulgaria), Bydgoszcz (Poland), Rijeka (Croatia) and Palencia (Spain) – will directly learn from these experiences and set up their own urban transformation plans. In addition, cities from Europe and beyond are invited to exchange experiences and learn directly from the mySMARTLife findings and results by joining the mySMARTLife Cities Network.
"mySMARTLife is aimed at supporting EU cities in their transition into more sustainable places. The commitment of Nantes, Hamburg and Helsinki to develop their Advanced Urban Plans and to implement such ambitious actions in their cities through mySMARTLife [more than 150 actions in the three cities] ensures that not only the technology, but their related business models are validated from the cities' perspective, making mySMARTLife a reference for a new concept of EU cities", underlines Rubén García Pajares, project coordinator of mySMARTLife.
Activities:
Defining the Urban Transformation Strategy (smart cities, smart economy, strengthening capacities and mentoring, advanced integrated urban planning)
Implementing activities in Nantes
Implementing activities in Hamburg
Implementing activities in Helsinki
Mentoring of implemented new activities
Partners:
Fundacion Cartif
Nantes Metropole
Engie
Association pour la Recherché et le Development des methods et processus Industriels
Centre d etudes et d expertise sur les risques l environnement la mobilite et l amanagement
Electricite Reseau Distribution France SA
Freie und Hansestadt Hamburg
Hafencity Universitat Hamburg
Hochschule fuer angewandte Wissenschaften
Volkswagen AG
T-systems International GMBH
Konsalt Gesellschaft fur Stadt und Regionalanalysen und Projektentwicklung mbH
EnergieNetz Hamburg eG
Helsingin Kaupunki
Forum Virium Helsinki OY
Teknologian tutkimuskeskus VTT Oy
Helen OY
Fourdeg OY
Salufsin OY
Metropolia Ammattikorkeakoulu OY
Steinbeis Innovation GGMBH
Fundacion Tecnalia Research & Innovation
Nobatek
Fundacion Esade
Miasto Bydgoszcz
Municipality of Varna
City of Rijeka
Ayuntamiento de Palencia
Budget:
Total project budget: 21,574,074.21 €
Financed from the programme: 18,656,101.98 €
Budget of the City of Rijeka: 140,625.00 €
Financed under:
Horizon2020 programme, Smart City Call