Project Title
Synergy – synergy networking in the high technology sectors aimed at fostering innovation in Central Europe
Project Goal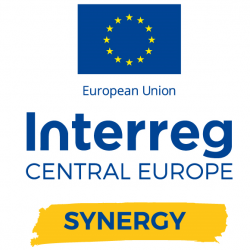 The main goal of the SYNERGY project is to strengthen the currently underdeveloped links between companies, industry, research centres and policy makers in Central Europe and encourage cooperation and synergies between them. The project will analyse previously funded and implemented projects and the institutions that participated in the projects will gather in three promising modern industry technologies sectors (KPA – Key Project Areas): additive manufacturing and 3D printing, micro and nanotechnology processes and materials and Industry 4.0.
Duration
1 August 2017 – 31 October 2020
Description
Institutions and clusters from each of these areas will form synergy networks based on a new project evaluation methodology and an online matchmaking tool. Also, new crowdinnovation services will be defined through the project, which will be tested as part of project pilot actions. Project activities will, as a result, encourage the creation of innovative services and facilitate international cooperation in the industrial sector.
Target groups include: high education and scientific institutions, small and medium enterprises, entrepreneurial support institutions (chambers of commerce and crafts, incubators, technology transfer offices, innovation centres, etc.), regional and local self-government units, the general public.
Project results
Establishment of innovative synergy networks among the actors involved and online solutions for matchmaking
Establishment of a crowdfunding and crowdsourcing platform to support innovation in Central Europe – Synergic Crowd Innovation Platform (SCIP)
creating a regional strategy on crowdinnovation
Partners
Project partners:
Wroclaw University of Technology, Poland
PROFACTOR GmbH, Austria
Technical University Chemnitz, Cluster of Excellence MERGE, Germany
Jožef Stefan Institute, Slovenia
Karlsruhe Institute of Technology, Germany
STEP RI Science and Technology Park, University of Rijeka d.o.o., Croatia
Centre of Research and Technological Innovation, s.r.l., Italy
Associated partners
Upper Austrian Research GmbH, Austria
Steinbeis-Europa-Zentrum (SEZ), Germany
microTEC Südwest e.V., Germany
Lower Silesian Chamber of Commerce, Poland
City of Rijeka, Croatia
Chamber of Industry and Commerce Karlsruhe (CCI Karlsruhe), Germany
Business Upper Austria – OÖ Wirtschaftsagentur GmbH, Austria
Marshal's Office of Lower Silesia, Poland
Budget
Total value of the project: 1,805,841 euros
Budget for Step Ri: 128,750 euros
Financed under
Interreg Central Europe 2017-2020
Official web site
https://www.interreg-central.eu/Content.Node/SYNERGY.html
Contact for more information
STEP RI Science and Technology Park of the University of Rijeka d.o.o., STEP RI,
email: synergy@uniri.hr